Need Help?
Welcome to the IATA Training Center in Santiago!
Need Help?
Housing original Chilean culture that showcases culinary treats, superb historical hotspots and contrasting neighborhoods, the charming Chilean capital is a cosmopolitan hub scattered with unconventional city charm. The best things to do in Santiago de Chile invite visitors from all walks of life to peel back the sun-drenched layers and marvel at the city's authentic eccentricity.
Santiago Training Center
The IATA Training Center in Santiago is located at the IATA Chile office in the Las Condes neighborhood. The closest subway station is Escuela Militar.
IATA Chile
Los Militares 5001 Of. 1104
Las Condes
Santiago
Chile
Wi-Fi internet connection is free for you to use during your time at the Santiago Training Center.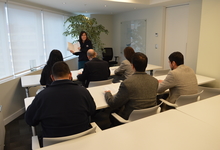 Please contact our team in Miami for more information about Santiago or our courses:
Miami IATA Training Center
703 Waterford Way (NW 62nd Avenue)
Suite #600
Miami, Florida 33126
USA
Telephone: +1 (514) 390 6777
​Where to stay
There are many hotels near the training center. More information will be provided at the time of your registration.
Explore Santiago
​Plan what to do during your stay with the Chile tourism website.
Santiago course schedule