Need Help?
Welcome to the IATA Training Center in Madrid!
Need Help?
Madrid is a modern metropolitan city and an economical and industrial center of Spain. It is known for its renaissance and contemporary art museums, sunny blue skies, unique neighborhoods, and bustling nightlife.
The Madrid training center is located in the IATA offices at Paseo de la Castellana, one of the city's most important arteries, and opposite the Santiago Bernabéu football Stadium, home to Real Madrid. It takes only ten minutes to get to the historic city center.
Madrid Training Center
​The IATA Training Center in Madrid is located at the IATA Spain office, easily accessible by underground or taxi from the Madrid Barajas Airport. Hotels, restaurants, and shopping areas are conveniently nearby.
IATA Spain
Paseo de la Castellana 95
28046 - Madrid
Spain
Printers, Wi-Fi Internet connection, free beverages, and quiet workspaces are available for you to use during your time at the Madrid training center.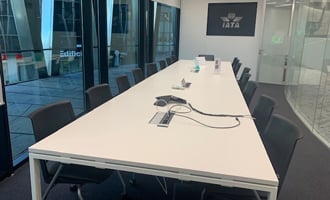 Please contact our team in Geneva for more information about Madrid or our courses:
Geneva Training Center
Route de l'Aéroport 33
P.O. Box 416
1215 Geneva 15 Airport
Switzerland
Tel.: +1 (514) 390 6777

​Hotels
As a course participant you can benefit from special rates with hotels near the IATA office. You will receive reservation details once registered for a course.
Leisure
Plan what to do during your stay on the Madrid tourism website
Madrid course schedule